Welcome to  
Films are shown in Balfron High School Theatre at 7.30 pm.
Doors open 7.00 pm.
Please note that non-members are very welcome for all screenings – entry £5 – come early for tea/coffee/nibbles/sweeties.
Friday, 28th February, 2020 at 7.30 pm
Manon des Sources
1986 (PG):   1 hr 53 mins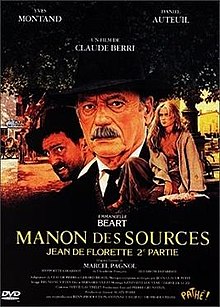 Starring Yves Montand, Emmanuelle Béart, Daniel Auteuil.
A beautiful but shy shepherdess plots vengeance on the men whose greedy conspiracy to acquire her father's land caused his death years earlier.   The sequel to Jean de Florette, taking up the story 10 years later.   Hailed by some as a masterpiece, and one of the best films ever made, if you like a great story beautifully told this is a film not to be missed.